Indigenous Wellness
The University of Saskatchewan is dedicated to I
ndigenous student success, to fostering meaningful relationships with Indigenous communities and to promoting Indigenous knowledges and scholarship. Through collaboration, innovation, respect and humility, the university fosters a welcoming environment that is grounded in the principles of reconciliation and
is able to
address the calls to action placed on everyone in this country.
Building an Awareness of Cultural Humility
A jointly created online course by Continuing Medical Education (CME) and Continuing Education in Rehabilitation Science (CERS) intended for health service staff who are not medically trained, as well as students interested in or already engaged in health science education.
The Role of Practitioners in Indigenous Wellness
This course is a collaborative project developed by the Division of Continuing Medical Education, College of Medicine, and the School of Rehabilitation Science, University of Saskatchewan, with assistance from the Canadian Medical Protective Association. The content was created by Indigenous community members and scholars, some of whom are the on-line instructors. It is designed from an indigenous world view, delivered through the voices and stories of leaders in Indigenous health care. Upon completion, health care practitioners will be equipped with the knowledge and insights to employ an interdisciplinary approach in understanding and supporting Indigenous patients. 
Course Learning Objectives
Through participating in the course, learners will be able to:
Identify how their background and culture influences both their health care experiences and the care they provide.
Explore how cultural genocide led to intergenerational trauma that impacts the health and wellness of Indigenous peoples.
Identify how the current health disparities and institutional experiences including racism faced by Indigenous peoples have their roots in historical colonialism and policy.
Explain how reclaiming Indigenous culture and beliefs may allow for healing
Identify ways they can enhance their practice to ensure culturally responsive, anti-oppressive and anti-racist care for Indigenous Peoples. 
Develop communication strategies that promote culturally responsive health care for Indigenous Peoples in your area of practice.
Awards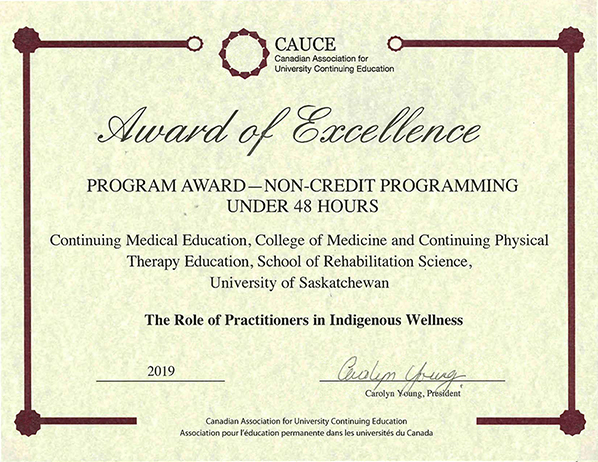 CERS is proud to announce that we are the recipients of the 2019 CAUCE (
C
anadian 
A
ssociation for 
U
niversity 
C
ontinuing 
E
ducation) Award of Excellence - Program Award - Non-Credit Programming Under 48 Hours