FAST (Fall Arrest Strategy Training)
Falls are the leading cause of injury related death for older adults in Canada and account for 77% of injury hospitalizations in Saskatchewan


Decreasing fall-related injuries will reduce emergency department visits and support seniors to age in place


Falls and related injuries ARE preventable


Our research team has been investigating the benefits of different types of programming and exercises to decrease fall-related injury risk.  One of our programs,
FAST
or
Fall Arrest Strategy Training
has been shown to improve fall risk factors such as balance, strength and functional ability as well as improve reaction time and ability to land and control a fall.
We have now produced a video demonstrating the key principles and examples of activities of 
FAST
 and invite you to view five short video segments below. 
Balance Flow Yoga: Preventing Falls and Injuries
Falls are the leading cause of injury related death for older adults in Canada and the United States


Older women are at risk of falls and related injuries


The potential human and societal loss due to falls is extensive   


Falls and related injuries ARE preventable


Yoga, a popular choice for women in their peri- and post-menopausal years, has promising benefits to improve strength, balance and confidence  



Our research team recently completed a study called The Effect of Yoga on Decreasing the Risk of Fall-related Injury in Peri- and Post-menopausal Women.
The project determined the effect of 12 weeks of hatha yoga on fall risk factors such as balance, strength, mobility, confidence and incontinence and the ability to control landing and descent of a forward fall. Through focus group discussions, we also explored the participants' perceived changes in overall health and well-being and some of the facilitators and challenges to participating.
Results are promising, showing significant improvements in fall risk factors and many perceived benefits and positive changes on quality of life and healthy aging.
Balance Flow Yoga developed for this project was designed by two physiotherapists on our team who are also yoga professionals by training. We created this video to share the essentials of the class with a broader audience.
This video demonstrates the key principles and practices of Balance Flow Yoga and also highlights the main themes emerging from the focus groups as depicted in the graphic below.
We invite you to view this video, and watch for future messages of training workshops and information sessions for leaders in healthcare, fitness, yoga and yoga therapy communities.
We hope this video will provide insight and guidance on ways to safely and effectively integrate evidence into yoga practice.
Thematic Graphic from Focus Groups
This video demonstrates the key principles and practices of Balance Flow Yoga and also highlights the main themes emerging from the focus groups.
Knowledge Sharing Event
2022 is the launch of the World Decade for Healthy Aging. What are you and your workplace/organization doing to support healthy aging in Saskatchewan?
We provided an opportunity for the community to contribute positively to supporting healthy ageing by PREVENTING FALL-RELATED INJURIES
Members were invited to attend this virtual event designed for health care providers, community exercise leaders, yoga instructors, and anyone with interest in fall prevention community programming:
Strong, Balanced and FAST: Working Together to Prevent Fall-Related Injuries 
The purpose was to:
share knowledge gained from four University of Saskatchewan research projects evaluating the effect of practical community-based interventions on preventing fall-related injuries
hear from you about experiences, challenges and facilitators in order to support and advance community programming to prevent falls
These virtual 2 hour sessions included an hour of knowledge sharing and opportunities for questions and an hour for a world café discussion. The events was held on two dates and the recordings can be viewed below.
Boiling it Down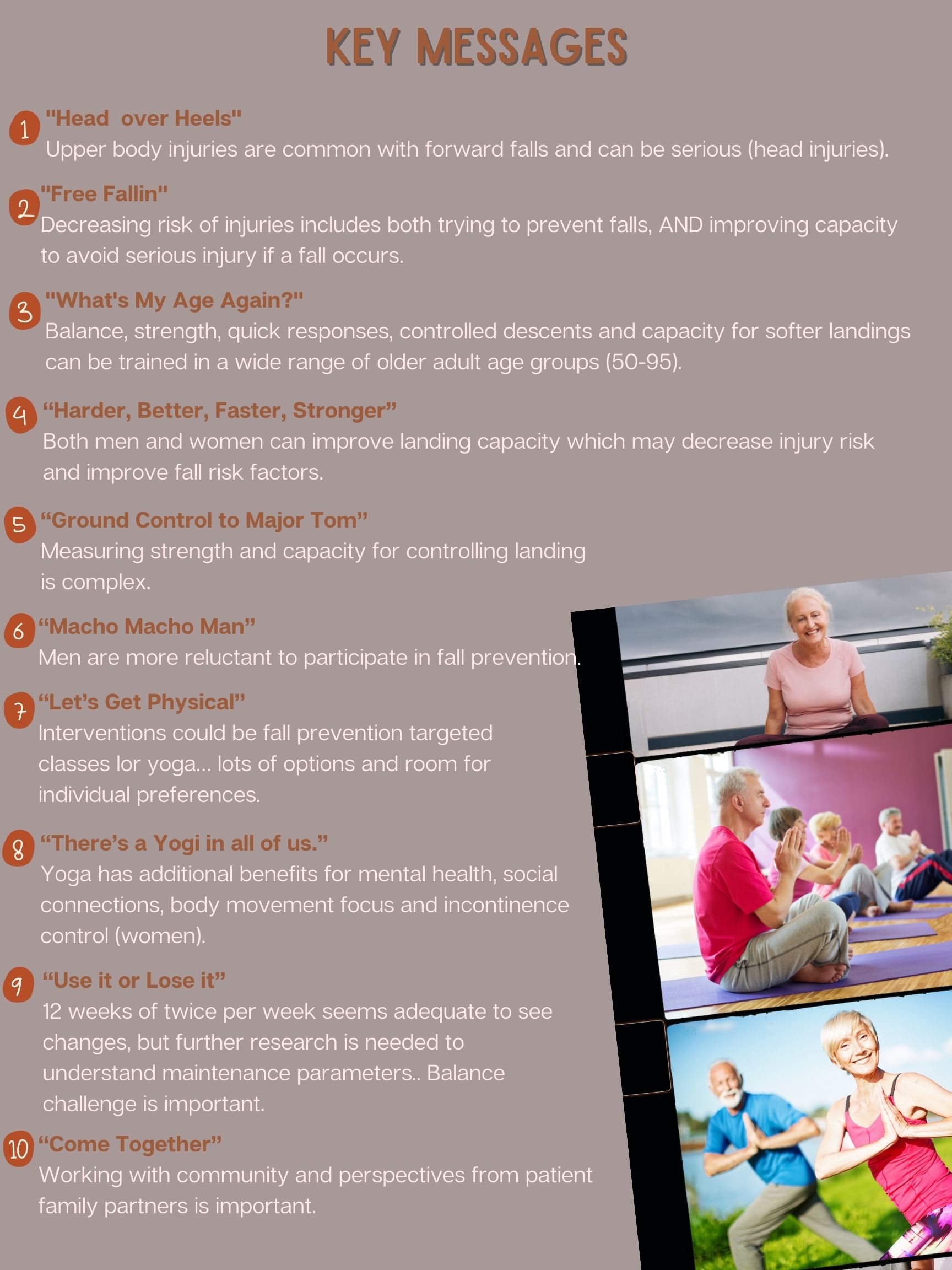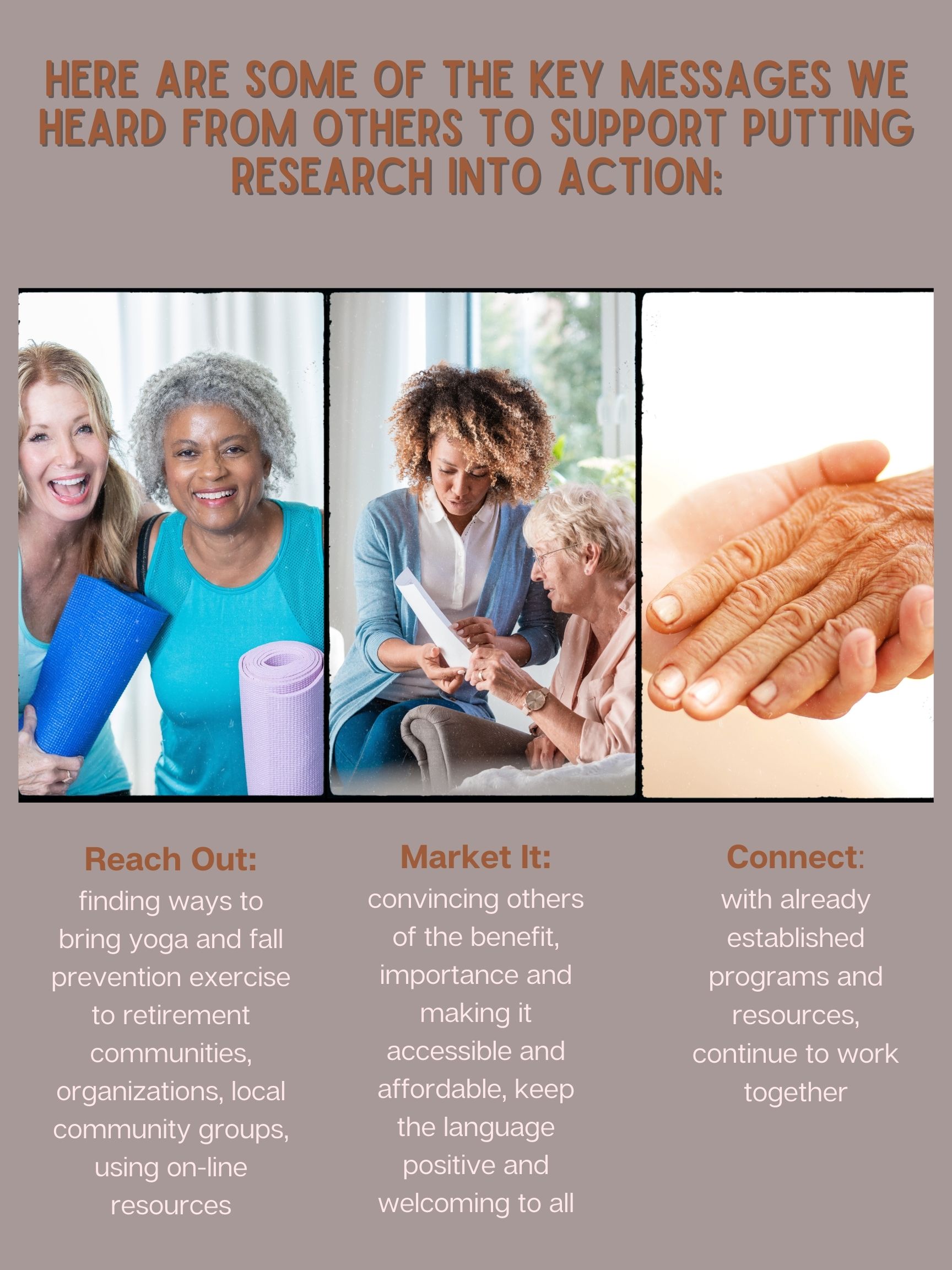 Research Team Members
Cathy Arnold, Principal Investigator
Professor, School of Rehabilitation Science

Brenna Bath, Co-investigator
Professor, School of Rehabilitation Science

Katie Crockett, Co-investigator
Katie Crockett, Physical Therapist Venture Rehabilitation Sciences Group, Post Doctoral Fellow School of Rehabilitation Sciences & CCHSA

Jon Farthing, Co-investigator
Professor College of Kinesiology

Joel Lanovaz, Co-investigator
Associate Professor College of Kinseiology

Melanie Weimer, Collaborator
Clinical Education Co-ordinator, School of Rehabilitation Science

Shelly Prosko, Collaborator
Prosko PhysioYoga

Stephanie Madill, Collaborator
Associate Proffessor, School of Rehabilitation Science

Janet Barnes, Patient Family Partner
Saskatoon

Howard Giles, Patient Family Partner
Saskatoon

Margareth Peterson, Patient Family Partner
Saskatoon
Supporters
Venture Rehabilitation Sciences Group (Formerly Bourassa and Associates)
Ground Yoga
Forever in Motion Saskatoon
Staying on Your Feet Sask Health Authority
Continuing Education in Rehabilitation Science
Saskatoon Council on Aging