Building Research Connections:
Thinking Outside the Box

21-22 September 2019


Keynote #1
Around the Kitchen Table – Informing physical therapy practice through community engagement and partnerships
Sarah Oosman, Sylvia Abonyi, Liz Durocher, TJ Roy
Presentations with viewable content will be clickable.
Plenary #1
Educational Initiatives in Response to TRC (panel)
Moni Fricke & Sarah Oosman
From Here and of the Land: Exploring Métis Older Adults' Perceptions of the Influence of the Land on their Health and Wellbeing
Boabang Owusu
Co-creating Curriculum to Cultivate Culturally Safe Practice with Entry Level Occupational Therapists
Kaarina Valavaara
Legal Recreational Cannabis: Big News or Blowing Smoke?
Cynthia Bojkovsky
Fall Arrest Strategy Training (FAST) Decreases Fall Risk and Improves Fall Landing and Descent Biomechanics in Older Women
Cathy Arnold
Leisure Time Physical Activity and Chronic Back Disorders in Canadian Adults: Results from a Longitudinal Population-Based Study
Adriana Angarita-Fonseca
Therapist Assistant Programs at Medicine Hat College: OTA/PTA & SLPA
Grace Torrance & Leeanne Sadowsky
Why Who the Client is Matters when Providing Occupational Therapy to the Education Sector
Lynn Lundell
Students in Master of Physical Therapy and Master of Occupational Therapy Programs: Do Changes in Academic Scheduling and Assessment Practices Influence Stress?
Sandra Webber
Health Status Impact Statements Following Mentorship Tutorials Demonstrate Enhanced Rehabilitation Capacity in a School for Disadvantaged Children in Honduras
Angela Busch
Connecting Knowledge, Privilege, and Experience in an Upper Year Kinesiology Course
Alison Oates
Visiting Rehabilitation Centers on the Caribbean Coast of Honduras to Build Collaborations and Assess Rehabilitation Capacity
Angela Busch
The Effect of a Novel Fall Arrest Training Intervention on Upper Body Strength in Older Men and Women
Cathy Arnold
Bridging Social Theory into the Clinical Care of Young People with Muscular Dystrophy
Patty Thille
A Novel Device for Assessing Pelvic Floor Muscle Function in Women
Stéphanie Madill
High-Tech Solutions for Complex Communication Needs
Jillian Morgan & Jenn Markosky
Validation of an Apple Watch for Horse Movement Analysis and Stall Rehabilitation Monitoring
Samantha Steinke
Occupational Therapists as Digital Storytelling Facilitators: Exploring Roles and Strategies
Kara Hollinda
Spinning Strength in Seniors: Does Flywheel Squat Power Predict Performance?
Scotty Butcher
A Comparative Study on the Effects of Flywheel Eccentric Overload and Traditional Resistance Training on the Physiological/ Functional Performance in Older Adults
Dami Odeleye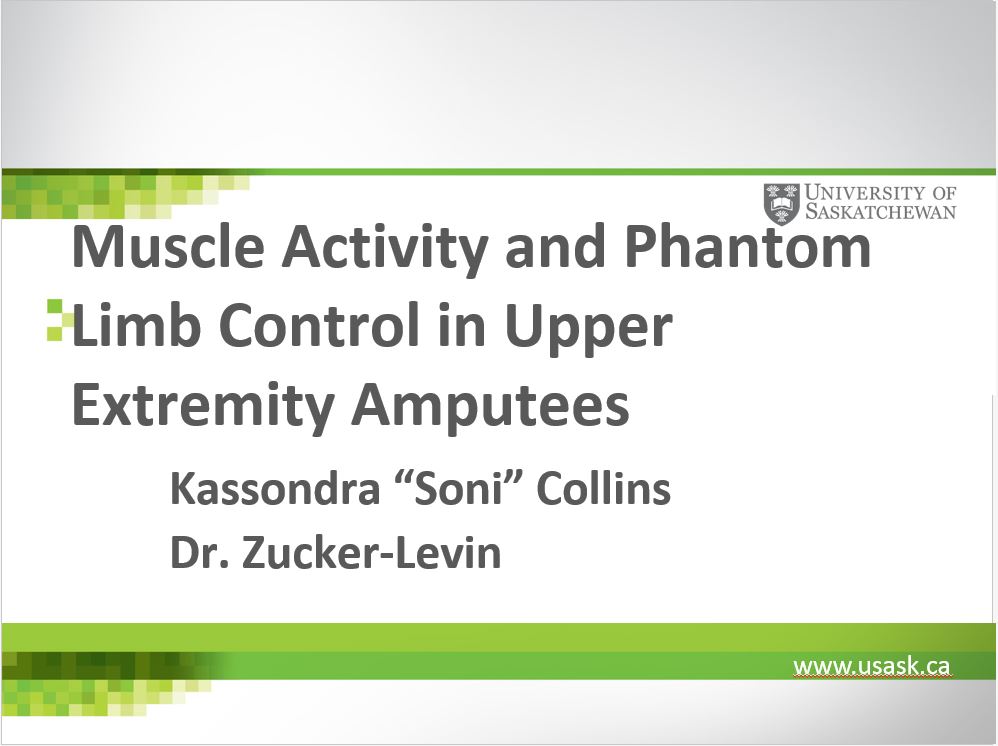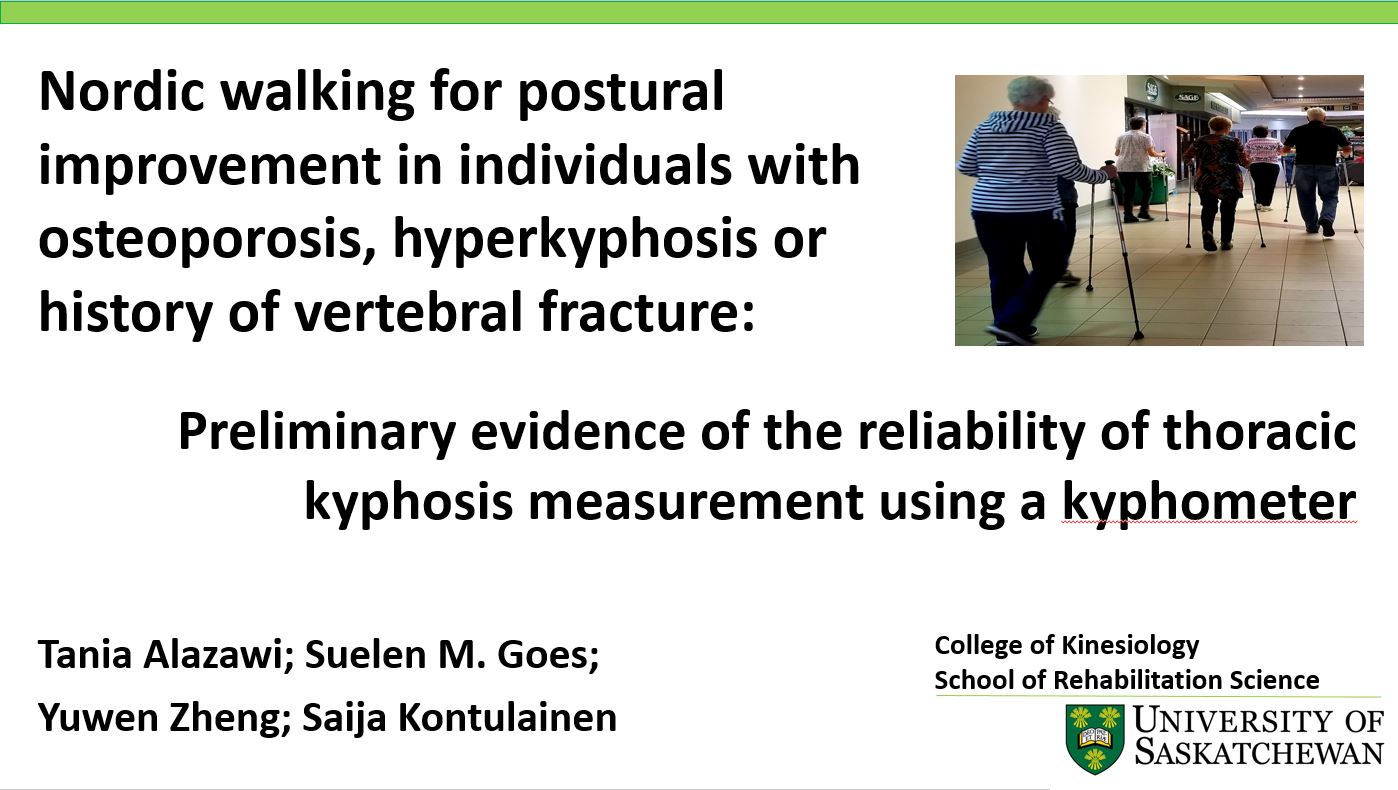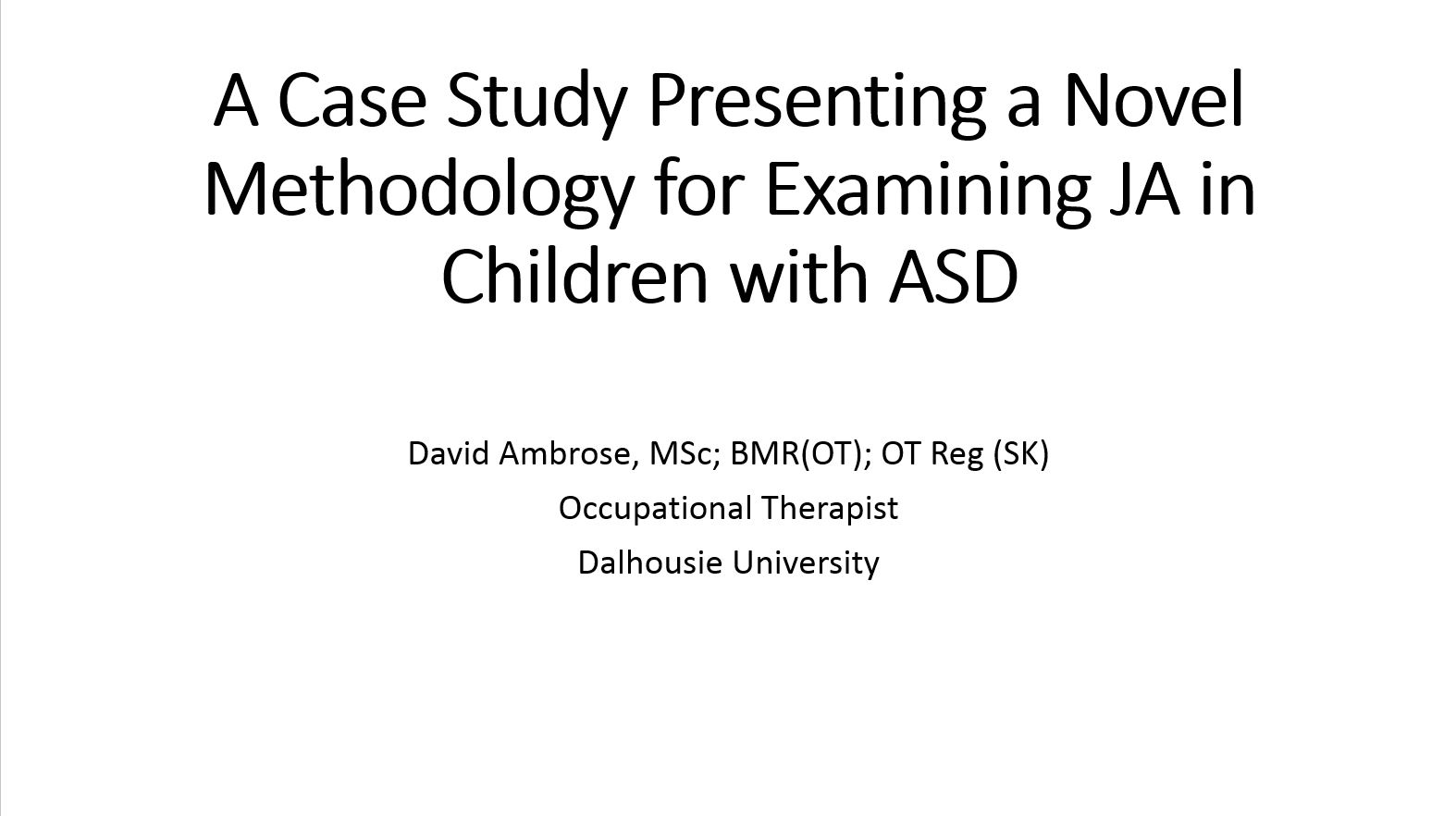 Muscle Activity and Function in Upper Extremity Amputees
Kassondra (Soni) Collins
Nordic Walking for Postural Improvement in Individuals with Osteoporosis, Hyperkyphosis or History of Vertebral Fracture
Tania Alazawi, Suelen Goes, Yuwen Zhang, Saija Kontulainen
A Case Study Presenting a Novel Methodology for Examining JA in Children with ASD
David Ambrose
Jigging Our Health: The Importance of Culture in the Health of Indigenous Peoples
Heather Foulds
Building Rehabilitation Capacity in Honduras: Impact of Workshops on Professional Isolation
Adriana Angarita-Fonseca
Interprofessional Education Competency Toolkit - On-Line Modules
Liz Harrison
Plenary #2
Technology-Related Teams (Panel)
Brenna Bath, Stacey Lovo, Sean Maw, Travis Eveleigh
Keynote #2
Research as Reconciliation: Ethical Engagement with Indigenous Communities
Carrie Bourassa
Plenary #3
Patient-Oriented Teams (Panel)
Stephanie Madill, Megan Clark, Jack Saddleback, Reann Legge, Audrey Zucker-Levin, Elder Margaret Larocque, Colin Farnan
An Information and Computer Technology-Based Mobile Application for Training of Family Members Caring for Someone with Dementia
Amine Choukou
Dual-task Training Program for Older Adults with Fall History: Blending Gait, Visuomotor and Cognitive Training (Neuro-Fitness)
Tony Szturm
Evaluation of a Game-Based Tele Rehabilitation Platform for In-Home Therapy of Hand-Arm Function Post-Stroke: Feasibility Study
Tony Szturm
Development of a Winter Accessibility Toolkit
Jacquie Ripat
Effectiveness of an Individualized Pedometer-Driven Walking Intervention in the Management of Chronic Low Back Pain: A Randomized Controlled Trial
Steven Milosavljevic & Angelica Lang
Imaging the Porcine Vertebral Endplate with Desktop Micro-Computed Tomography
Dena Burnett
Plenary #4
Collaborating Outside the Box (Panel)
Sarah Donkers, Collen Dell, Alison Oates, Romany, Hope, Uller, and Jacquie Ripat