School of Rehabilitation Science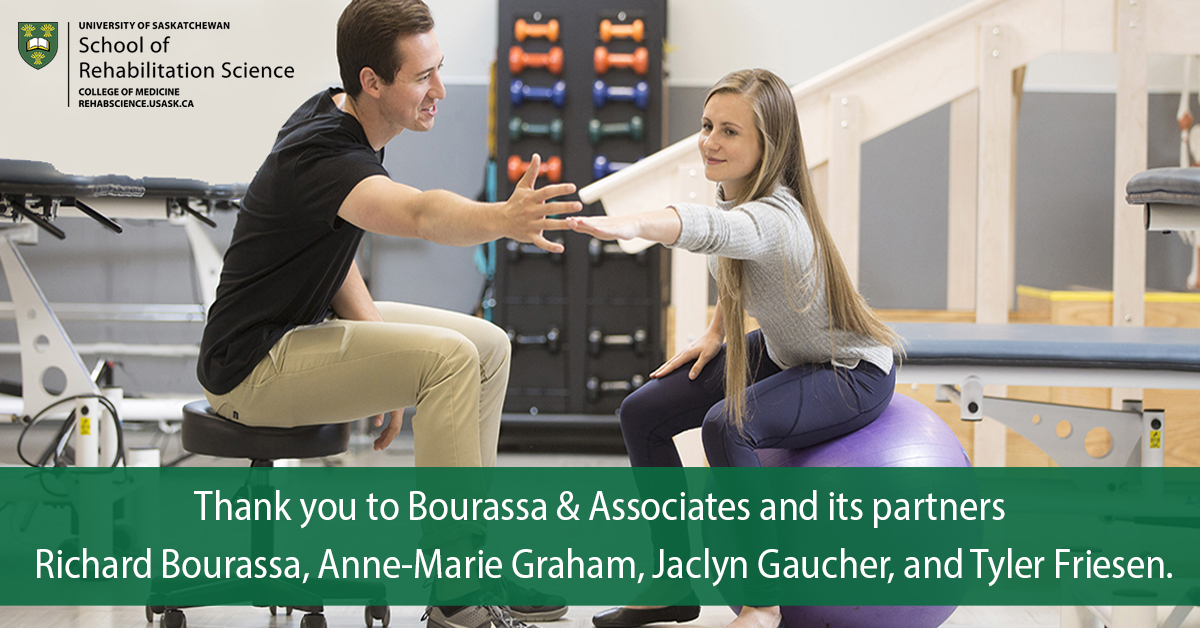 Thank you to Bourassa & Associates and its partners Richard Bourassa, Anne-Marie Graham, Jaclyn Gaucher, and Tyler Friesen for your generous donation to the School of Rehabilitation Science! The gift is providing teaching and research equipment for physical therapy students.
Statement on Racism
The University President Dr. Peter Stoicheff has clearly articulated that words alone are not enough to support the Black Lives Matter movement. The BLM movement has helped many to 'wake up' to the systemic racism and oppression present the world over and to become aware of how it manifests in our communities, workplaces, and everyday lives. This is a time for self-reflection, a time to recognize one's own privilege and implicit biases, and to practice active allyship to effect change. 
 The School of Rehabilitation Science and our faculty and staff stand in solidarity with those engaged in fighting racism against Black, Indigenous, and all racialized peoples in Saskatoon, Saskatchewan, Canada and beyond. As members of a School whose vision places emphasis on reconciliation and inclusion, we reaffirm our responsibility to take tangible actions to combat racism. 
 While we are proud of the relationships we have established and actions we have initiated to work together and understand our own attitudes, social constructs, and policies, we recognize the need to increase our efforts to combat racism and put words to action. We will begin by taking a closer look inwards to recognize and challenge the social justice issues within our rehabilitation and academic communities. We look forward to working closely with our College and University partners in advancing anti-racism and meaningful allyship.
Donate
You know the importance of having educated health professionals, research and high-quality clinical care. By supporting the School of Rehabilitation Science, you are ensuring that rehabilitation science and health-related learning, teaching, research, and mentorship are advanced.
Your gift can be directed to the area of your choice, whether for student awards or bursaries, teaching equipment, or research activities.